As I'm a big foodie, I'm signed up to almost every restaurant and food subscription going. Mostly, emails just go straight into my virtual 'Trash', but occasionally the contents catch my eye and really make me excited!
This was the case when I received a subscriber mail from The Cinnamon Club. They were putting on a Bijoya Thali especially for Diwali! A thali, for those who have never had one before, according to Indian food custom, a meal which consists of 6 different flavours; sweet, salty, bitter, sour, astringent and spicy all at the same time. Traditionally, they are served in big stainless steel plates and each item is in a small stainless steel bowl, with bread and rice placed in the middle.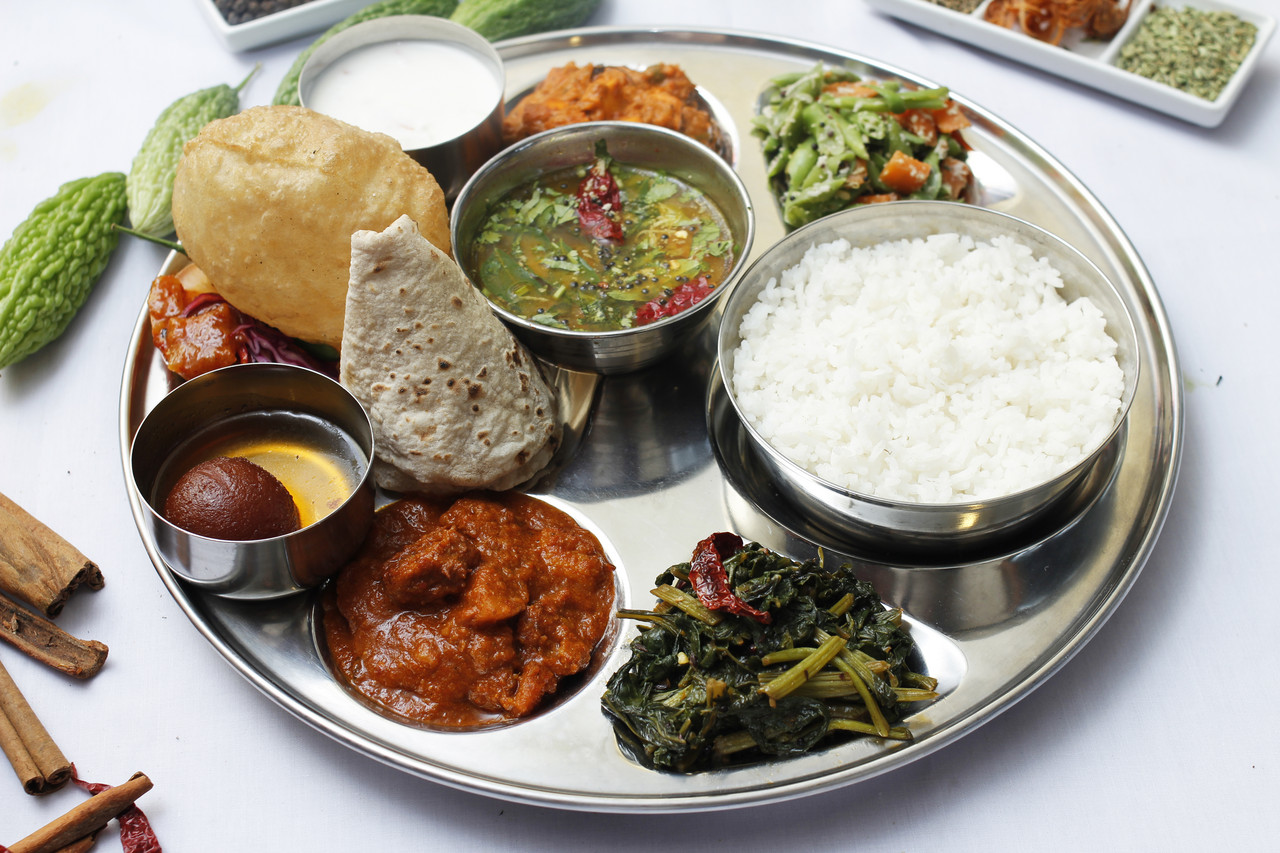 If you're Indian and ever throw a dinner party, it may not look like a thali, but there will ALWAYS be an element of each of these flavours in the food made. I remember moaning to my mum about how many varieties she's going to make when I was younger, it just seemed like such a big effort to me! Looking back now, it really makes sense, everything on a Thali is put there for a reason.
The Cinnamon Club thali was no exception. We had 11 different dishes each of which had it's place on the plate:
Kosha mangsho (Salty/Spicy)
Rich lamb curry with Bengali spices
Murghir jhol (Salty/Spicy)
Home-style chicken curry
Chingri malai curry (Bitter/Salty)
Shrimps simmered in coconut cardamom sauce
Tawa mach (Astringent)
Pan fried sea bass with hot spices & poppy seed
Aloo gobhi (Sour/Salty)
Stir-fried potato and cauliflower
Tadka dal (Astringent)
Yellow lentils tempered with cumin and garlic
Mango lassi (Sweet)
Tomato chutney (Sweet/Sour)
Kachumber & lime (Bitter)
Ghee rice
Paratha
Mishti doi, rossogulla (Sweet)
The vegetarian thali had beetroot cakes and paneer and morel mushroom koftas instead of the meat dishes.
Having held a Michelin star for several years, we knew the service would be good. We went as a family of 8, our party included 2 children, 1 who needed a high chair. We arrived at the restaurant a little early but were greeted, had our coats taken and were led to our table. The table was ready in a quiet corner of the restaurant, high chair already in place.
After we had settled down, a waitress brought out colouring pencils and some paper for the children to keep them entertained while drinks orders were taken. As we had children, the hostess kindly offered to merge the sauce from one dish and the pieces of chicken from another dish to make a child friendly version of the butter chicken dish, this was brought out before our Thali so the children were able to begin their meals before we got our food.
I ordered a Botanical Martini from the 'Gin Trolley Experience' selection. The bar tender brought the trolley out and made the drink at our table and provided us with an explanation and history of the Gin being used and the measures he was using to create the cocktail. Other drinks we ordered included Rose Champagne and a lovely Kir Royale.
Before we got the Thali, an amuse bouche of crispy potato cake with sweet mustard sauce was brought out to whet our appetites. It was crunchy, spicy and sweet all at the same time. Delicious!
Shortly after we got our Thali's for main course, they were presented on big copper plates with all the elements in individual bowls. My dish served minus the shrimp curry as I'd advised of my allergy.
We were advised by the server to ask if we wanted any more of anything. Every single dish was superb. I started off by trying the sea bass which I ate alongside the tomato chutney, it was marinated and fried covered in poppy seeds, this was a really unusual texture and something none of us had experienced before. It was my first time trying sea bass and it certainly won't be the last! The chutney was sweet and sour, the chunks of tomato and nigella seeds gave it a great texture too. The chutney wasn't to EmJay's personal taste but he enjoyed the sea bass with a little lime juice.
Following this, I started on the curries, the chicken curry was so delicious, it actually tasted just like my mums! I've never been able to say that about any restaurant curry before so this was a real treat. The lamb and was soft, tender and melted in your mouth as you ate, it had a spicy kick which was complimented when eating alongside the paratha and rice served with it.
The vegetarian dishes included a delicious aloo gobi (potato and cauliflower) and a tarka dhal (lentils), both of these were great to accompany the chicken and lamb. They were full of flavour and spiced just enough to not over power the meat and fish dishes.
The sweet element of the thali was a mishti doi and rossogulla, a caramelised baked yogurt which was infused with cardamom and pistachios which was served with a milk dumpling which had been steeped in a sugar syrup, this dish along side the mango lassi made the whole thali come alive. It's natural in Indian households to serve a sweet (mithai) alongside your savoury main course so that you are able to eat them along side each other.
We were able to request extra portions of everything which was on the thali if we so wanted, and by the time we were finished eating the smallest person in our party had very comfortably fallen asleep on his daddies arm which was placed on the high chair with a full belly, if that's not a sign he enjoyed his lunch I'm not sure what is! Seeing how he was sleeping, our waitress kindly brought out a pillow so he could sleep comfortably while we relaxed and ordered desserts.
We all ordered different things, EmJay and myself shared a fig and date sticky toffee pudding while other orders included the gulab jamun and yuzu tart, kulfi with honeycomb and the cheeseboard. All of which were devoured. The sticky toffee pudding was served with a cinnamon ice cream, this extra little hint of spice really brought out the flavours of the fig and dates in the pudding and gave it a completely different dimension to anything we'd tried before.
As we were celebrating Diwali, we also went for some after dinner digestif cocktails, and coffees. I got the 'India Alexander', a mix of cognac, chestnut liqueur infused with garam masala, cacao dark and double cream. It has to be one of the best things I've ever drank, so smooth and creamy with a hint of chestnut. Beautiful. I drank a little as it was then ordered an espresso to mix into it, this just made it taste even better! I'll definitely be trying to recreate this one come Christmas time!
All in all, we loved our lunch at the Cinnamon Club, the food, drinks and service were all brilliant and we wouldn't hesitate to recommend it.
They are currently running the offer of the Bijoya Thali for £32 per person over lunchtime until 31 October 2017 so get in quick if you'd like to try it!